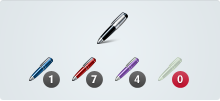 Products grouping (parent/child's) and inheritance properties
This feature allows you to combine several products of the same model under the same parent and share some common parameters.

Example: A shoe model offered in a variety of colors with a specific inventory for each.

Photos, description and price would be the same as the parent product but inventory management would be specific to each shoe size.
Advanced catalog integration using a Web service layer (SOAP and REST)
Seamlessly integrate product search and display feature to your Web site.